Pan's Mushroom Jerky - All Products
Build Your Own Variety Pack
Build your own Variety Pack to pick and choose all your favorite flavors.
To see details of each flavor, including ingredients and nutritional information, click on the highlighted flavor name below:
Made with shiitake mushrooms, Pan's Mushroom Jerky is plant-based, vegan, a good source of fiber and vitamin D, paleo, Kosher, soy-free, and gluten-free.
Allergy Information: Made in a facility that processes products that may contain allergens.
Shelf life is six months. We do not use preservatives. If you experience any issues with freshness, please email us: hello@mushroomjerky.com.
Check our store locator to see if a store near you carries Pan's!
Customer Reviews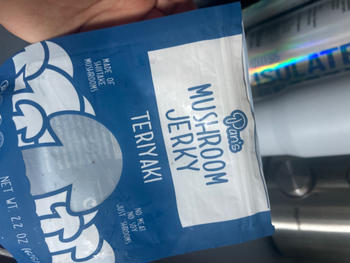 03/20/2023
Best ever!
These for real have such an incredible meaty texture, and an amazing mushroom flavor to top it off! So good!
Hannah C.

United States
09/27/2023
Addictive Snack
This mushroom jerky is delicious and very addictive. It's hard to just eat one bag at a time. I've ordered all the flavors and they are great tasting. Highly recommend them.
Andy U.

United States
08/10/2023
please read
amazing if you can try other flavors like sweet chipotle or dr pepper that would be insane thanks
darren w.

United States
06/19/2023
So good!
In my opinion, these are better than most beef jerky brands. Their dehydrated but somehow so Juicy and flavorful. They taste amazing!
Janan

United States
05/16/2023
Love my mushroom jerky!
This mushroom jerky is one of my favorite snacks. It's so delicious and I love that it has high quality ingredients!
Nicole C.

United States
03/20/2023
So good!
Yum yum yum! So tasty!
Hannah C.

United States