Pan's Mushroom Jerky - All Products
Pan's Mushroom Jerky Variety Pack
Check our store locator to see if a store near you carries Pan's!
Want to try a little bit of everything? Order a Variety Pack that includes all four flavors!

Please click flavor names to see details of each flavor, including ingredients and nutritional information.
Made with shiitake mushrooms, Pan's Mushroom Jerky is plant-based, vegan, high in fiber and vitamin D, paleo-friendly, Kosher, soy-free, gluten-free, and uses organic ingredients.
Allergy Information: Made in a facility that processes products that may contain allergens.
Please note: We do not use preservatives in our products. If you experience any issues with freshness, please email us: hello@mushroomjerky.com
Check our store locator to see if a store near you carries Pan's!
Customer Reviews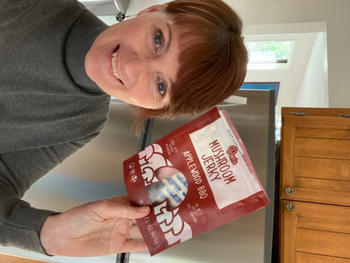 12/01/2020
Finally!
How do I count the ways in which I love this jerky? I will try. It has perfect "mouth feel," which I've been craving since becoming vegetarian nearly 20 years ago. The flavors are amazing, too. I've tried four of the varieties and have not been disappointed in any of them. I'm so happy this jerky was invented! Keep up the good work, people at Pan's!
Rebecca L.

United States
06/17/2022
Original
I got this in the WI Dells OMG it is great. I have to buy more and the other flavors. I am a mushroom lover. OK I need a description of product to give reason for this rating. This one had a mild smooth flavor. You could eat the whole pack but it is best not to because you need to enjoy not in-hail this item but if you do eat it in one sitting it is only 230 calories and 2g. of Protein. It isn't stringy like a normal jerky but a softer like jerky bite. I tell you if you see them in a store and really like mushrooms, grab a bag and snack on.. I could eat it at any meal. I wish there was more in the bag but when you have a higher cost item you have to price it to fit your market. I am getting the 4 pack here at their website. Well worth the price. Thank you and enjoy
Lynn

United States
06/09/2022
Highly recommend
So good. Very tasty. You wouldn't even know it was mushroom
Anonymous

United States
04/20/2022
It's good but it's such a rip off
This stuff is tasty yes.. but this is ridiculous. You are paying $9 and the bag is like 1/4 of the way filled!! Cmon this is a ripoff. There's barely anything in the actual bag and yet you're paying $9 for it plus shipping?!? Not worth it. They need to address this, I'm sorry but this company is ripping off their customers and it's extremely disappointing.
Maya

United States
03/26/2022
Tricked by Shark Tank's rave reviews
I was very excited to try this jerky when I saw the rave reviews from Shark Tank. Unfortunately when I tried it, i was sorely disappointed. As a person who eats meat/beef jerky, unfortunately the texture and mouthfeel doesn't even come close to any type of meat jerky, The texture and mouthfeel of this "jerky" more closely resembles a dried plum. A more honest description how this product taste would be a something similar to a savory dried plum.
Sy

United States
02/11/2022
Did NOT like and overpriced!
I follow a paleo nutrition plan, so I was excited to add pan's mushroom jerky to my repertoire of snacks. I love mushrooms, and I love jerky, so I thought this paleo mushroom jerky would be a hit. However, it was a bust. I did not like any of the flavors in the variety pack. Nor did I like the texture. I paid way too much money for a mushroom jerky variety pack that will go to waste. Unfortunately, I will not purchase this product again. Very disappointed!
Tiffany

United States