Pan's Mushroom Jerky - All Products
Pan's Mushroom Jerky Variety Pack
Check our store locator to see if a store near you carries Pan's!
Want to try a little bit of everything? Order a Variety Pack that includes all four flavors!

Please click flavor names to see details of each flavor, including ingredients and nutritional information.
Made with shiitake mushrooms, Pan's Mushroom Jerky is plant-based, vegan, high in fiber and vitamin D, paleo-friendly, Kosher, soy-free, gluten-free, and uses organic ingredients.
Allergy Information: Made in a facility that processes products that may contain allergens.
Please note: We do not use preservatives in our products. If you experience any issues with freshness, please email us: hello@mushroomjerky.com
Check our store locator to see if a store near you carries Pan's!
Customer Reviews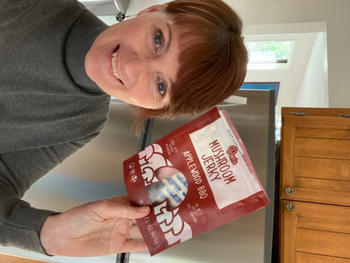 12/01/2020
Finally!
How do I count the ways in which I love this jerky? I will try. It has perfect "mouth feel," which I've been craving since becoming vegetarian nearly 20 years ago. The flavors are amazing, too. I've tried four of the varieties and have not been disappointed in any of them. I'm so happy this jerky was invented! Keep up the good work, people at Pan's!
Rebecca L.

United States
01/20/2022
Tastes amazing. Way too expensive
I LOVE this jerky. I happened upon it back when it was sold at WholeFoods. I tried it, loved it, bought one more bag and loved it again. But I couldn't afford it regularly so now I just put it on my Christmas list and enjoy it once a year. But, if it was more affordable or you got more in a bag for the price, I'd stock my shelves with this deliciousness!
Carnessa

United States
01/12/2022
Best mushroom jerky brand
I meant to write the review for this pack and not specifically the Thai pack I bought separately (though that is good as well!). Pan's jerky is by far the best brand of non-meat jerky I've tried. The jerky is savory and not dry and much closer to a typical Jack Links meat jerky than the various soy jerkies. Other mushroom jerkies are just thin slices of mushrooms but this is thick and meaty. Can't get enough of it! Meat is my favorite food but we switched to a vegetarian diet and this scratches that itch!
Chris D.

United States
11/26/2021
Guilt free jerky
I am a jerky lover, but I try not to eat a lot because my stomach doesn't tolerate meat very well. This mushroom jerky is a delicious guilt free alternative. All of the flavors are great. Had the same consistency of regular meat jerky's without the toughness.
Anonymous

United States
12/23/2021
Pan's Mushroom Jerky
We appreciate the love :) We are honored to be able to provide you a satisfying, delicious guilt free alternative to meat jerky - still with that umami goodness! Thank you so much for letting us know <3
10/31/2021
Big fan of this product
Salt & pepper and Zesty Thai were my favorites
Elizabeth H.

United States
12/23/2021
Pan's Mushroom Jerky
Thank you for your support :) We look forward to serving you more in the future <3
09/28/2021
Delicious!
Love all the flavors :)
Penny

United States