Pan's Mushroom Jerky Variety Pack
Check our store locator to see if a store near you carries Pan's!
Want to try a little bit of everything? Order a Variety Pack that includes all four flavors!

Please click flavor names to see details of each flavor, including ingredients and nutritional information.
Made with shiitake mushrooms, Pan's Mushroom Jerky is plant-based, vegan, high in fiber and vitamin D, paleo-friendly, Kosher, soy-free, gluten-free, and uses organic ingredients.
Allergy Information: Made in a facility that processes products that may contain allergens.
Please note: We do not use preservatives in our products. If you experience any issues with freshness, please email us: hello@mushroomjerky.com
Check our store locator to see if a store near you carries Pan's!
Customer Reviews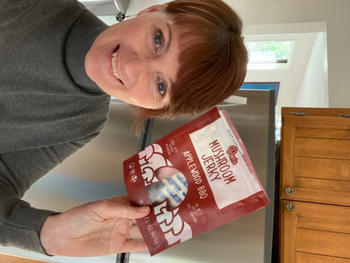 12/01/2020
Finally!
How do I count the ways in which I love this jerky? I will try. It has perfect "mouth feel," which I've been craving since becoming vegetarian nearly 20 years ago. The flavors are amazing, too. I've tried four of the varieties and have not been disappointed in any of them. I'm so happy this jerky was invented! Keep up the good work, people at Pan's!
Rebecca L.

United States
09/28/2021
Delicious!
Love all the flavors :)
Penny

United States
09/19/2021
Robbery
I love this jerky, but the cost is insane. The bags are so small. This costs so much more than every other veggie jerky on the market, it's insulting. If the product was more affordable I would never buy anything else, but at the current price I feel like this is a grossly greedy company that doesn't deserve our support.
09/18/2021
Awesome
Pan's Mushroom Jerky is awesome!
09/17/2021
All so good
The variety pack was awesome. They were all my favorites.
Anonymous

United States
09/09/2021
DELICIOUS & Satisfying!
These jerky mushroom bits are fantastic. My son-n-law shared some he had ordered after watching Shark Tank and I am SOLD. I'm ordering my own right now! Very tasty, chewy, and no animals were harmed in the making of this product!