Pan's Mushroom Jerky Variety Pack
Check our store locator to see if a store near you carries Pan's!
Want to try a little bit of everything? Order a Variety Pack that includes all four flavors!

Please click flavor names to see details of each flavor, including ingredients and nutritional information.
Made with shiitake mushrooms, Pan's Mushroom Jerky is plant-based, vegan, high in fiber and vitamin D, paleo-friendly, Kosher, soy-free, gluten-free, and uses organic ingredients.
Allergy Information: Made in a facility that processes products that may contain allergens.
Please note: We do not use preservatives in our products. If you experience any issues with freshness, please email us: hello@mushroomjerky.com
Check our store locator to see if a store near you carries Pan's!
Customer Reviews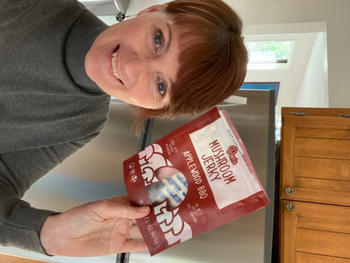 12/01/2020
Finally!
How do I count the ways in which I love this jerky? I will try. It has perfect "mouth feel," which I've been craving since becoming vegetarian nearly 20 years ago. The flavors are amazing, too. I've tried four of the varieties and have not been disappointed in any of them. I'm so happy this jerky was invented! Keep up the good work, people at Pan's!
Rebecca L.

United States
02/11/2022
Did NOT like and overpriced!
I follow a paleo nutrition plan, so I was excited to add pan's mushroom jerky to my repertoire of snacks. I love mushrooms, and I love jerky, so I thought this paleo mushroom jerky would be a hit. However, it was a bust. I did not like any of the flavors in the variety pack. Nor did I like the texture. I paid way too much money for a mushroom jerky variety pack that will go to waste. Unfortunately, I will not purchase this product again. Very disappointed!
Tiffany

United States
01/29/2022
I was shocked!
I got gifted a bag of the original Mushroom Jerky for Christmas. I was skeptical and nervous to try but this fun little snack blew my socks off! Will 100% be ordering from you guys. Very excited to try all the flavors!
Celeste

United States
01/24/2022
Pretty good flavor
Tastes ok, but you get like 5 bites for $9 these bags should be 1-2$ for the amount you get, what a joke. If you think you are getting a multi serving bag of your these you are not.
ElBizzle

United States
01/20/2022
Tastes amazing. Way too expensive
I LOVE this jerky. I happened upon it back when it was sold at WholeFoods. I tried it, loved it, bought one more bag and loved it again. But I couldn't afford it regularly so now I just put it on my Christmas list and enjoy it once a year. But, if it was more affordable or you got more in a bag for the price, I'd stock my shelves with this deliciousness!
Carnessa

United States
01/15/2022
leslie
hello Pan jerky company, Sorry WE Did'nt Like this Jerky. it dose leave a weird taste in your mouth after you eat it..... We saw this on Shark tank Show, and with everyone telling us all how good it was, we found it at Holiday Market here in Redding CA. The Price is insane, $$$ 6.99 for 2.2 oz bag. WoW. and we didnt like it. O Well. good luck. And its made in Portland my home town too... love Portland OR. not the Jery, sorry again,
Leslie O.

United States