Original Mushroom Jerky
Pan's Original Mushroom Jerky uses simple ingredients to create a slightly sweet and blissfully umami flavor.  
Made of shiitake mushrooms, Pan's Mushroom Jerky is plant-based, vegan, high in fiber and vitamin D, paleo-friendly, Kosher, soy-free, gluten-free, and uses organic ingredients.
Available in single 2.2oz bags, or bundles of 5, 10, or 15 bags. 
Ingredients: Organic dried shiitake mushrooms, water, avocado oil, organic coconut sugar, Himalayan pink salt, organic chia seeds.
Allergy Information: Made in a facility that processes products that may contain allergens.
Please note: We do not use preservatives in our products. If you experience any issues, please email us: hello@mushroomjerky.com
Check our store locator to see if a store near you carries Pan's!
Customer Reviews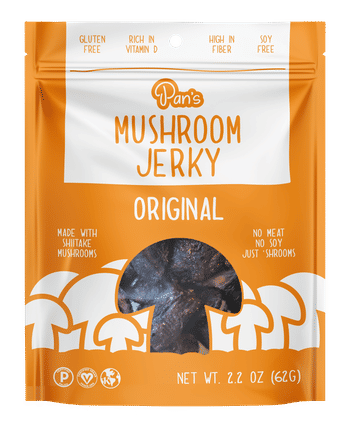 05/12/2022
Points
The points system is really cool
Noice S.

United States
05/13/2022
Pan's Mushroom Jerky
Thank you so much for letting us know :) If we can answer any questions about our Rewards program just let us know. Thanks for your support!
11/17/2020
Mushroom jerky love
So so good. Especially for a vegan! Amazing taste and texture. Found them in a store in Oregon and now order them direct!!
Laureen O.

United States
04/26/2022
Just finished my 3rd 5 pack at old price.
This will be my last order as I considered $7 a real stretch but $9 is too much.
Robert R.

United States
04/26/2022
Pan's Mushroom Jerky
We greatly appreciate your continued support. Please know, we now offer a Rewards program with many opportunities to earn Pan's Points that may be redeemed for discounts on future orders with us. Just visit mushroomjerky.com/rewards to learn more.
03/07/2022
Original
On my second 5 pack. Highly addictive. Flavor totally unique and delicious. What I don't understand is why you are tampering with it with all your other flavors which interfere with its true underlying appeal. There are enough potato chips and corn chips with those other flavors a lot cheaper. Instead have you considered testing out a lower sugar and salt version of the original? Try that instead of developing an additional flavor. It might even be more delicious. You might be surprised by the reception it receives.
Robert R.

United States
03/08/2022
Pan's Mushroom Jerky
We are elated to hear you are enjoying our mushroom jerky! Thanks for letting us know :) Please know, we're developing a recipe that has 25% less sugar, but we don't have immediate plans for a sugar free version quite yet. But I'll be sure to forward your feedback to our Production Team. We greatly appreciate your support!
02/21/2022
Original
Unique flavor. Hard to describe. Habit forming. Want to cut down on sugar and salt and this has the lowest of all the flavors.
Robert R.

United States
01/31/2022
Original
Not that good to be honest. I like the salt and pepper more but everyone's taste bud is different. Still some good mushroom jerky though!
Ab V.

United States