2.2oz Subscription Add-Ons
Curry Mushroom Jerky
Pan's Curry Mushroom Jerky is a Madras curry flavor that brings some heat.

Made with shiitake mushrooms, Pan's Curry Mushroom Jerky is plant-based, vegan, a good source of fiber and vitamin D, Paleo, Kosher, soy-free, and gluten-free.
Ingredients: Dried Shiitake Mushrooms, Organic Coconut Sugar, Avocado Oil, Water, Organic Curry Seasoning (Organic Spices, Organic Garlic, Organic Turmeric, Organic Freeze-dried Lemon, Sea Salt, Organic Jalapeño Pepper, Organic Chili Pepper, Organic Smoked Paprika), Pink Himalayan Sea Salt, Organic Chia Seeds. 
Allergy Information: Made in a facility that processes products that may contain allergens.
The shelf life of Pan's Mushroom Jerky is six months. We do not use preservatives in our products. If you experience any issues with freshness, please email us: hello@mushroomjerky.com.
Check our store locator to see if a store near you carries Pan's!
Customer Reviews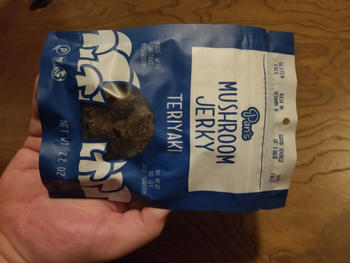 10/22/2021
Delicious!
It's been less than a month and I'm about to reorder already. This stuff is that good. Perfect flavor and texture combine for a highly addictive snacking experience!
Ben P.

United States
02/01/2023
Fantastic Jerky
Was only disappointed when I realized I finished the bag. It is so good and hit the spot as we were leaving school but wouldn't get dinner until after tutoring.
Sarah R.

United States
01/29/2023
Pretty good
I love curry, and this definitely has great curry flavors. It isn't my favorite of the flavors they offer, but still tasty.
Jamie M.

United States
01/29/2022
SO YUMMY
I tried this for the first time this past week, and now I put it in everything: greens stir-fried, salads, and right from the bag. Highly recommended! Already ordering more!
Anonymous

United States
01/12/2022
Best mushroom jerky. Period. Love it!
I have tried all sorts of brands. None come close. We switched to a vegetarian diet a couple years ago and this is the closest thing I have to meat. It's not fatty and greasy like various soy "not meats".
Chris D.

United States