Pan's Mushroom Jerky - All Products
Zesty Thai Mushroom Jerky
Zesty Thai has a savory taste with a little kick, and is our most popular flavor yet. 

Made with shiitake mushrooms, Pan's Mushroom Jerky is plant-based, vegan, high in fiber and vitamin D, paleo-friendly, Kosher, soy-free, and gluten-free.
Available in single 2.2oz bags, or bundles of 5, 10, or 15 bags. 
Ingredients: Dried Shiitake Mushrooms, Avocado Oil, *Coconut Sugar, Water, Himalayan Pink Salt, Organic Thai Seasoning (*Garlic, *Onion, *Lemon Peel, *Cayenne, *Tomato Powder, *Coriander, *Paprika, *Citric Acid, *Basil, *Black Pepper, *Cilantro, *White Pepper), Chia seeds. *Organic.
Allergy Information: Made in a facility that processes products that may contain allergens.
The shelf life of Pan's Mushroom Jerky is six months. We do not use preservatives in our products. If you experience any issues with freshness, please email us: hello@mushroomjerky.com.
Check our store locator to see if a store near you carries Pan's!
Customer Reviews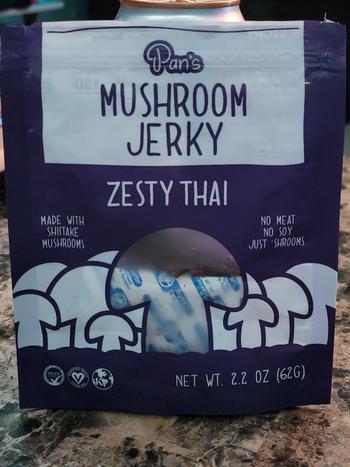 01/30/2023
First Time Buyer
Honestly I've never had any other jerky that was this delicious and I vary from vegan to meat here and there. Although this jerky is mushroom, it's absolutely amazing; looks like beef jerky, tastes better than beef jerky and feels like beef jerky. It's insane how close this is to meat.
SOURDave93

United States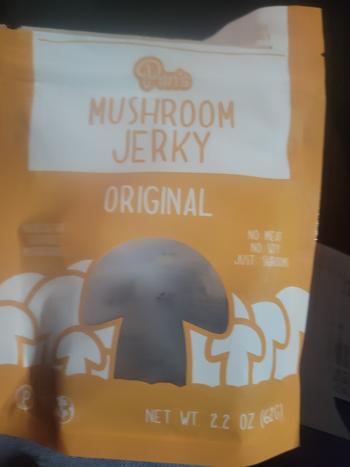 09/17/2022
I want my money back
I was excited when I saw it in our store. Saw product on Shark Tank. I purchased the original thinking it wasn't going to have sugar in it. Should have read back of label. Too sweet! Jerky DOES NOT need sugar added to it! Also, for the amount of money I paid for it ($7.98), it should be more flavorful. It would have been a great product otherwise.
Jackie

United States
12/11/2022
OBSESSED, Part 2
It took me a while to branch out from the original flavor because it was So. Damn. Good. I'm glad I tried the Zesty Thai, because it is also So. Damn. Good. Yeah, it's expensive. I don't care. It's worth it!!!
LoriG

United States
07/29/2022
Used to be great
I really loved this jerky the first time I bought it. I just recently purchased it again and was disappointed. It's just not as good as it was the first time I bought. It's dry and tough, just not good. I won't be purchasing anymore. It's too expensive for the quality.
Denise

United States
08/06/2022
Pan's Mushroom Jerky
We are very sorry for your recent order experience. We've shipped out another order right away so that you may fully enjoy your Pan's. Thank you so much for shopping with us - we appreciate the opportunity to correct this issue.
06/22/2022
Yummmm
The Zesty Thai has a little kick to it and it taste great! Love these!
Michelle C.

United States
06/06/2022
So happy I found Pan!
Bought two bags at a small whole food shop in Mammoth CA. OMG super addictive. They are moist and flavorful. Plan to take them backpacking tomorrow if there are any left. I don't eat meat and tofu jerky is not my thing. These are amazing!
Linda W.

United States
06/06/2022
Pan's Mushroom Jerky
We are so happy to hear you are enjoying our mushroom jerky. Your support means the world to us :) We look forward to serving you for years to come.