Pan's Mushroom Jerky - All Products
Original Mushroom Jerky
Pan's Original Mushroom Jerky uses simple ingredients to create a slightly sweet and blissfully umami flavor.  
Made of shiitake mushrooms, Pan's Mushroom Jerky is plant-based, vegan, high in fiber and vitamin D, paleo-friendly, Kosher, soy-free, and gluten-free.
Available in single 2.2oz bags, or bundles of 5, 10, or 15 bags. 
Ingredients: Dried Shiitake Mushrooms, Water, Avocado Oil, Organic Coconut Sugar, Himalayan Pink Salt, Organic Chia Seeds.
Allergy Information: Made in a facility that processes products that may contain allergens.
The shelf life of Pan's Mushroom Jerky is six months. We do not use preservatives in our products. If you experience any issues with freshness, please email us: hello@mushroomjerky.com.
Check our store locator to see if a store near you carries Pan's!
Customer Reviews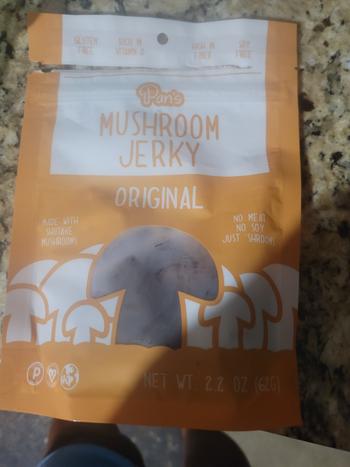 09/17/2022
I want a refund
I was so excited to find this product at my local HEB store. I had seen it on Shark Tank and wanted to try it. I am very disappointed with the sugar that is in it. It's too sweet. I got the original, playing it safe. SUGAR DOES NOT NEED TO GO INTO JERKY! For the amount of money I paid ($7.98), it also needs to be more flavorful. Other than that it would have been great.
Jackie W.

United States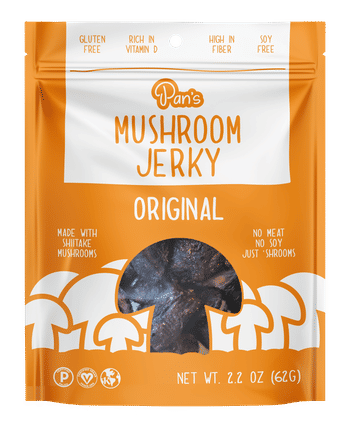 05/12/2022
Points
The points system is really cool
Noice S.

United States
05/13/2022
Pan's Mushroom Jerky
Thank you so much for letting us know :) If we can answer any questions about our Rewards program just let us know. Thanks for your support!
11/17/2020
Mushroom jerky love
So so good. Especially for a vegan! Amazing taste and texture. Found them in a store in Oregon and now order them direct!!
Laureen O.

United States
03/16/2023
Chewy, flavorful and amazingly satisfying
My daughter sent me the original and teriyaki packs after she became a mushroom jerky convert. I was very surprised that mushrooms could taste like beef jerky. I loved both flavors! I'm hoping a local store will start carrying this product so i don't have wait for the mail. Thanks for a great meat substitute.
03/10/2023
sugar
This is not a healthy snack. It has too much sugar! Diabetes is at epidemic proportions in US. Part of the problem is people claiming "healthy", when in fact has added sugar. Shame on you
Sheryl L.

United States
03/08/2023
WOW!!!!!
Amazing. Made with wonderful ingredients. Tastes outrageously good. Best snack ever.
Alison R.

United States